Guest Post by Matt Ward of Remoterboater.
In an era where many would argue that kids are losing touch with nature and becoming overly consumed with technology it can be difficult as parents to relate with your children. Many of the fond childhood memories we all share we formed in the great outdoors, exploring and shaping the people we would become. Today children are exposed to ever greater amounts of social media, television, and video games and are rejecting more conventional and beneficial outside activities.
So please, before you purchase your kid the newest smartphone or video game this holiday season, consider how it will affect their development and outlook on life and nature. Consider an alternative to the tech crazed holiday shopping and how your family can leverage your gifts to build more great memories together.
1) Yard Games
I for one loved bocce ball and horseshoe as a child. My family and friends would frequently have spur of the moment matches in our front yard. There are so many easy games that any family member can participate in such as bocce, croquet, or the southern favorite cornhole. Horseshoes though is best served for slightly older individuals because of the weight.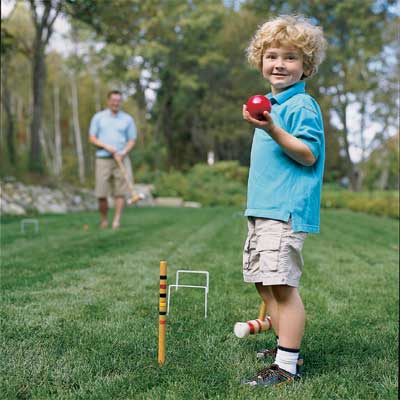 2) New Snow Clothes or Gear
Growing up in New York State, we received our fair share of snow. My childhood memories of winter consist of building snow forts, snowball fights, and sledding. My family loved the snow and we were always outside playing in it and having a blast. If your children are young take advantage of it. They will never again truly love and revel in the mystery and amazingness of snow and will soon not wish to spend time with you.
3) Camera
Why not merge technology, art and nature. Cameras allow kids to express themselves. They are able to photograph beautiful sceneries and share them with others. Practicing photography is a great hobby, and even potentially a fulfilling career if your child has a natural skill for it.
4) Bike, Roller Blades or Skateboard
I was never a skater growing up but I loved biking and roller blading. When I was younger I would ride once a week with my mom on long bike journeys throughout our village, exploring and exercising and just bonding. It was a great time and something I would never want to lose. Also please wear your helmet, it is cool to be safe.
5) Remote Control Vehicle
Another great melding of technology is nature is radio control. I always loved playing with and racing RC Boats and Cars as a kid. Melding with and modifying these spurred my interest in engineering and certainly contributed to my study of Mechanical Engineering in university. The other great thing about RC  products is doing them together. Most of the time when I was driving my toys around outside or at the park, my dad would be their with me showing me how to do it. He wanted to teach and help me but still let me learn on my own.
6) Sports Stuff
Not the most creative idea but always popular. An inexpensive basketball hoop or baseball glove allow ed me to spend hundreds of hours with my Dad, and even a few with Mom playing in the front yard. Sports can be a great family activity and vastly superiour to watching or playing on TV. Tennis, basketball, soccer, football….there are so many choices, there has to be one that is perfect for your family.
7)Snorkeling Equipment
If you live near the coast or the water, snorkeling could be perfect for you. On those hot afternoons, why not suit up and go as a family to explore the mysteries and wonders below the water. Snorkeling or even underwater photography is a phenomenal way to bond and create new and meaningful experiences together. Just work on your non -verbal communication because it can be hard to talk.
I hope these ideas help you build stronger family ties and help your kids become more in touch with nature and the environment.
Guest Author Bio:
Hey guys I'm Matt, a 23 year old guy who loves the outdoors and having fun. My hobbies include sports, weight lifting, RC, read ing and travelling. I recently spent seven months in Europe learning about medieval history and culture during my engineering internship.